Health and Safety Practices Adopted to Keep Butterworth Laboratories Operating Through the Covid-19 Crisis
29 September 2020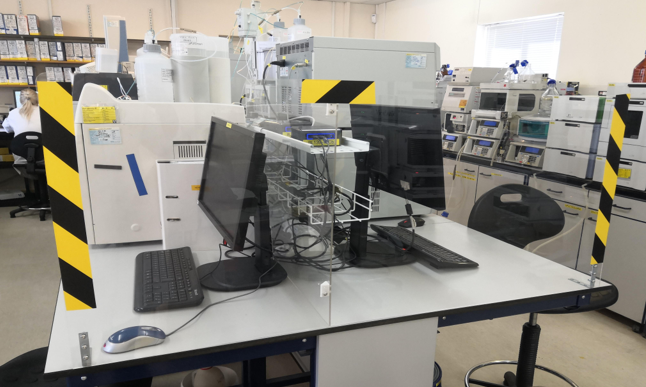 When it became apparent that the country would be going into 'Lockdown' the management at Butterworth Laboratories Ltd were aware that this could have a significant impact on the testing services we provide, in that laboratory analysis is an on-site job that cannot be done remotely.
As with most companies the first thing to be done was to identify any staff who were particularly at risk from the virus, through underlying medical conditions, along with an assessment of which roles within the organisation could be carried out remotely from home or furloughed under the UK Government Scheme. This reduced the workforce having to attend our laboratory site, but still left a significant part of the workforce, mainly laboratory analysts considered as Key Workers, needing to be on site to carry out their job functions.
A gap analysis on guidance issued by Public Health England (PHE) and the World Health Organisation (WHO) was performed. The gap analysis along with risk assessing areas and tasks where there was thought to be increased potential of being infected by COVID-19 helped lay the foundation for the company H&S Policy on COVID-19 as well identifying controls that needed to be implemented to reduce identified risk.
Listed below is a basic summary of initiatives introduced to reduce potential for infection at work:
H&S Policy for COVID-19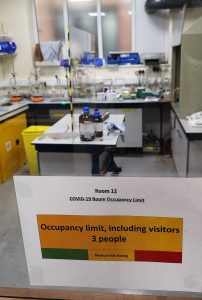 Implemented company H&S policy for COVID-19 and issued to all staff. The policy included the following sections:

Guidance for persons or households with possible COVID-19 infection

Staff member becomes unwell in the workplace with COVID-19 symptoms

Staff testing for COVID-19

Use and issue of face coverings

Use and issue of face shields

Foreign holiday travel policy
And has been continuously updated as and when the issued guidance changes.
A good communication plan was required to ensure that staff understood the requirements for working safely. The H&S policy was communicated weekly along with regular communication including posters, signage and updates in guidance issued by Public Health England. The Managing Director also sent out a weekly updates on the COVID-19 situation and how it was being managed within the company.
Staff Engagement
A health and safety survey was carried out with all staff physically working at our Teddington Facility to gauge staff risk perception and to assess areas and tasks where staff felt they were most at risk to COVID-19. This information was used to update the risk assessment and to improve control measures implemented.
Staff are actively encouraged to provide feedback if they had any concerns or suggestions relating to COVID-19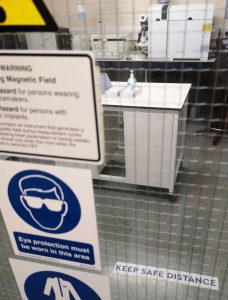 Face Coverings
Face coverings have been provided by the company for staff to wear. It was recommended that staff may make use of these in situations where staff could be in close contact with other staff. Face coverings are not provided as a replacement for other controls already in place in the Laboratory but rather to supplement these controls.
Staff using public transport have been provided with face coverings to wear when travelling to and from work.
Door Openers
To reduce the need to touch door handles, foot door openers have been installed on welfare facility doors and doors leading into the breakroom to reduce use of door handles. Where practicable and fit for purpose they have been installed on other doors throughout the building.
Hygiene
Hand sanitiser stations have been set up at all entrances to buildings as well as outside welfare facilities and break rooms.
Purchased hand sanitiser has been supplemented with 'homemade' hand sanitiser when purchased stocks have run low.
Hand sanitisers have been given to staff using shared office spaces.
All hand towels and tea towels have been removed from use and only single use disposable paper towels are in use.
Disinfectant wipes distributed to staff to clean shared equipment before using it.
Regular reminders and signage has been provided on good hygiene
Disposable Crockery and Cutlery
To improve hygiene in the breakroom all crockery and cutlery has been removed from use and replaced with single use disposable crockery and cutlery.
Temperature Check Station
A temperature check station was put in place where staff are able to self-check and monitor their temperatures daily.
Deliveries
An outside delivery drop off point has been created so that there are contactless deliveries and no interaction between delivery drivers and staff members. Where interactions are required these take place outside so that delivery drivers do not have to enter our facility.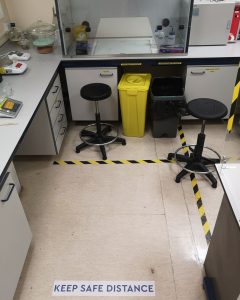 Social Distancing
In addition to reducing the number of staff attending the laboratory site in Teddington, through Home Working, a decision was made to extend the working week from 5 to 7 days, with members of staff only working 5 consecutive days. This shift arrangement reduced the numbers of staff attending site on a daily basis, increasing our ability to meet Social Distancing requirements. This shift arrangement has now come to an end, however should the need arise it could be re-introduced.
All shared office spaces have been re-arranged so that there is at least 2m between workstations. Where possible workstations have been positioned so that staff are not directly facing each other. Where a distance of 2m is not practical, hygiene screens have been installed between desks in line with government guidance.
Social distancing rules have been developed based on guidance from Public Health England and regularly communicated to all staff members. Signage on how to maintain social distancing has been provided at all entrances to the Laboratory.
Occupancy limits for offices and specific areas in the laboratory have been established so that social distancing can be maintained.
Table and chairs have been rearranged or removed in the breakroom as well as signage indicating where staff can sit so that social distancing of 2m is maintained.
An additional seating has been placed in outside areas for staff to use when on break to reduce the number of staff in the breakroom at any one time. Signage has been put onto the seating to restrict the number of staff that can use this seating.
A convex mirror was installed in the stairwell so that staff can see if someone else is using the stairwell to prevent staff passing close to each on the stairs.
Inspections
Covid-19 inspections have been implemented in the Laboratory. These are completed twice per week and findings are reported directly to senior management.
The inspections focus on several different aspects including:
Staff behaviours and ability to maintain social distancing
Good hygiene practises
Reviewing effectiveness of controls for Covid-19
Actions required to close any gaps
A weekly summary report is distributed to all staff so that they are aware of any problem areas and the actions that will be implemented to ensure compliance with the H&S policy for COVID-19 and the government guidance for working safely.
Hygiene Screens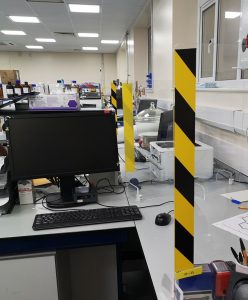 Perspex screens have been provided in the laboratory. These have been installed where social distancing cannot be maintained between workstations or where the workstation is located next to a high foot traffic area.
Moveable screens have been made so that analysts can position these on their work benches when working closer than 2m to other analysts.
Contractors and Visitors
All contractors and visitors are required to complete a health screening questionnaire before arriving at site. Contractors and visitors must also submit contact details to ensure that these can be given to NHS Test and Trace services if required.
Contractors must submit RAMS which include Covid-19 controls to be implemented for the specific tasks they will be completing. Where possible work by contractors has been scheduled for the early morning or evening when there are fewer staff in the laboratory.
Assessment as to whether Instrument Maintenance/Calibration work is needed on the scheduled date, or can be deferred until a later date in conjunction with QA, Laboratory Operations and Facilities Departments. Where required, specific measures introduced on an individual basis to maintain Social Distancing Space required by Service Engineers etc.
Other Controls Implemented
Mental health continues to be highlighted to all staff as well as steps staff can take to get assistance.
During the period when we operated a 7 day working week, we organised for our Contract cleaners to provide additional services.
Continual review of Risk Assessments and controls implemented as well as identifying other areas of risk.
Monitoring for changes in Government advice on handling Covid-19 in the work place.
Organising for staff to be tested for Covid-19 when showing symptoms, in line with Government guidelines.
Working from Home
Where required staff were provided with the necessary equipment to ensure that they could work safely from home.
Staff that continue to work from home complete a working from home self-assessment as well as display screen self-assessment so that any risks related to working from home can be managed.
If it is not reasonably practical to manage the risks for the staff member working from home then these staff members follow the return to work risk assessment process to safely bring them back into the workplace.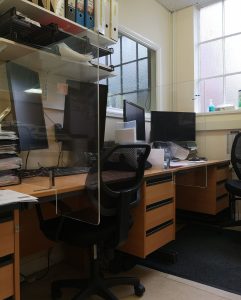 Staff Returning from Furlough and Home Working
A return to work risk assessment is completed for each individual staff member that is returning from furlough.
The return to work risk assessment focused on 3 key areas:

Medical vulnerability assessment

Assessment of the work place and role related risks to each staff member

Assessment of each staff members vulnerability
Based on the return to work risk assessment adjustments are made in the workplace before the staff member returned to work so that no additional risk was placed on the staff member returning or on staff that have continued to work in the laboratory throughout the pandemic.
All staff returning from furlough undergo a return to work health and safety induction which includes COVID-19 measures put in place for their safety.
Based on the return to work risk assessment adjustments are made in the workplace before the staff member returned to work so that no additional risk was placed on the staff member returning or on staff that have continued to work in the laboratory throughout the pandemic.
All staff returning from furlough undergo a return to work health and safety induction which includes COVID-19 measures put in place for their safety.
Summary so Far
The implementation of these measures has enabled us to maintain our operations through this crisis so far. This does not mean we have not been affected by the pandemic. We have had some staff who have potentially contracted the virus and others who have had to self-isolate when they displaying symptoms or have had household members who have symptoms. The introduction of the Government Testing programme helped get staff returning to work quicker. We have, however, been able to keep a sufficiently high proportion of our staff actively working though the crisis to date.
The next stages
To ensure we continue to improve on the control measures already put in place and ensuring that feedback from staff on where there can be improvements made are captured and acted upon in a timely manner.
Guaranteeing that critical items that have been in limited supply such as PPE are available for staff to use and that stock levels are maintained in the event of second wave or lockdowns to ensure we can continue work as normally as possible.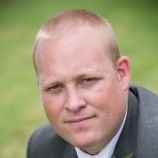 Author Biography
Graeme Hamilton Tech IOSH Health & Safety Manager
Graeme started at Butterworth in 2019 as the Health and Safety Manager bringing over 10 years of Health and Safety experience from working in FMCG and Chemical Manufacturing industries.